Sahticocktails – Salute to the great history of Sahti
Sahti batch few weeks ago turned out to be quite decent to say the least. One can appreciate this noble drink and its traditions not only by sticking with pure sahti alone. In addition, we wanted to see how it would contribute to drink mixes and whether its nature would remain recognizeable in a line of cocktails: a long drink, a fancy cocktail, a strong cocktail and a shot.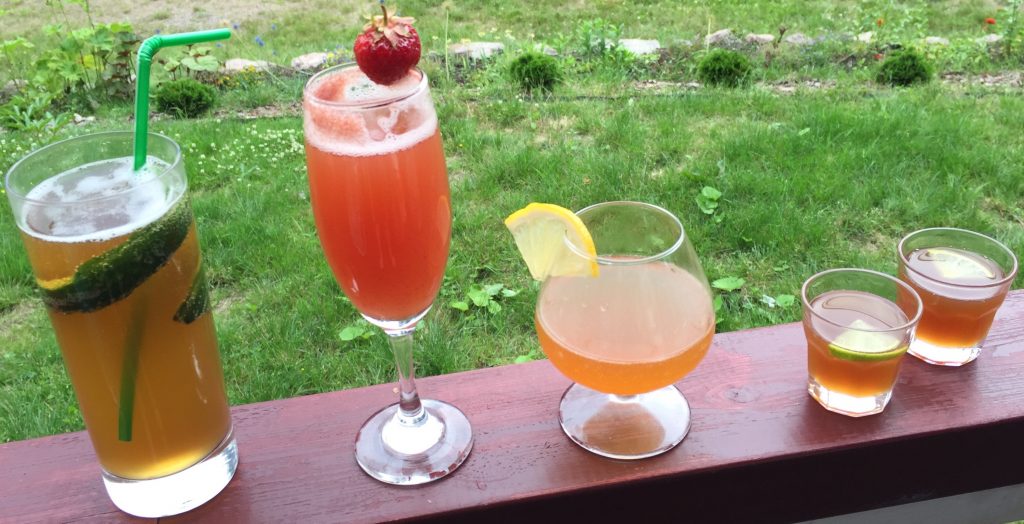 By wrapping some gloss around sahti also results bling-bling proof night club versions for sahti. When one seeks to find intriguing tastes the path taken is more or less inevitable. Mixing sahti with soft and hard drinks is fascinating, but may be controversial and odd as well. Not all may like the idea of twining past and present drinks together. On the other side, there will always be someones who won't love the taste of sahti as such. In fact, when first said aloud the idea of mixing sahti with Coca-Cola, the person next to me implied: "Why batter cola with sahti?"
So the first idea was simply to mix sahti with common soft drinks. Similar types of drink mixes have been existing long time for some other more common beer styles, usually referred to as shandies or radlers. However, we wanted to go bit further with the idea, especially when honoured to have guest for designing the drinks. The setting for experiments was provided by the Brewniverse, but the soul to drinks was given by French gourmet cook Tomi Bourthoumieu. He has been working in Michelin star restaurant, Château de la Pioline in Aix-en-Provence. Collaborative attitude worked this time too. A batch of beer was brewed together with Tomi and he gave the birth for the following etno-cocktails.
1. Saimaa Royale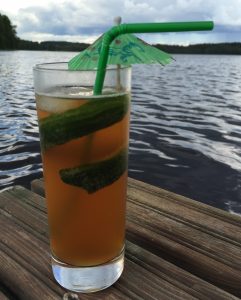 This is a long drink for chilling. This is where Eastern Finland and Western France meet. The original recipe uses Château de Montifaud VSOP Fine Petite Champagne. Rotate the glass back and forth for cucumber slice to mimic baby green mamba swimming. Then enjoy and watch any Finnish lake for peace of mind.
The drink welds together brown colours from both sahti and cognac, unfolding amber golden colour with tonic water. It produces green reflections and nice bubbles on the cucumber. Strong sweetish aroma from sahti. The hint of cucumber softens the tones from alcoholic beverages. Overall very fresh, the taste of sahti is present.
Composition:
4cl cognac
9cl sahti
9cl Schweppes tonic water
1 peel of cucumber
3 ice cubes
Total serving: 22cl
Serve in tall tumbler glass on the rocks.
2. Strawberry Sampo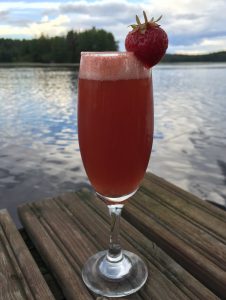 Strawberry Sampo is a fancy cocktail party drink. The name is inspired by Finnish Kalevala poetry, in which sampo is a wonderful kind of mill generating richnesses. Ancient heritage made luxourius.
The drink has dark reddish-pinkish cloudy appearance with thick beautiful foam. Strawberry smell with fresh strawberries is striking. Overall light presence of strawberry and berry sweetness, with the lightness of cava (Spanish sparkling white wine). Sahti adds to drink the deepness of a forest. With this cocktail you want to have party in the woods like Alice in Wonderland.
Composition:
2 cl fresh strawberry purée with sugar
4cl sahti
8cl cava (Freixenet Cordon Negro Cava Brut)
1 fresh strawberry for decoration
Total serving: 14cl
First add the strawberry purée and sahti and stir them, then add the cava with enough strength to create a pink foam. Be sure to have sweetened strawberry pulp to avoid sour taste. Serve in champagne flute.
3. Sunny Sahti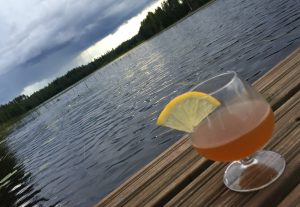 This one is strong cocktail to be served as short drink. Whether the weather is sunny or showery this drink makes you feel lovely. Chef's favourite.
The cocktail is really fresh with the characteristic taste of sahti. Nice orange pale colour. Citric aroma brought by Cointreau and lemon. Rather strong while fresh. Orange-flavoured Cointreau and lemon slice mix to sahti for flavour complexity. This convolution is created by the friendly match between sourness and sahti sweetness.
Composition:
2cl lemon juice from fresh lemon
2cl Cointreau
4cl sahti
A slice of a lemon for decoration
Few ice cubes
Total serving: 8cl
Use shaker to mix the ingredients then filter ice cubes away. Serve in cocktail/Martini glass (may be substituted with traditional cognac glass).
4. Shotiverse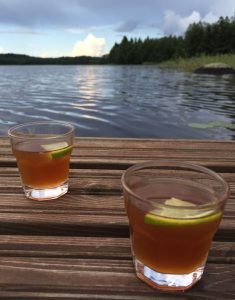 Here we have a shot, or actually two shots. This drink is to be made two shots at the time and to be enjoyed together with  friend or someone else important. Festive and easily drinkable with interesting polar cloudberry. Samba dancers would drink this in Brasil.
The drink is pretty sweet as the sweetness is boosted both by cloudberry liqueur and sahti. This is like a little candy. After taking the shot, infused lime is to be eaten (not the skin you funny fellow). This cuts off the sweetness leaving the final taste a bit sour.
Composition:
2cl sahti
2cl cloudberry liqueur (Chymos Lakka liqueur)
A quarter of a lime slice
Total serving: 4cl per portion, always serve paired shots.
Serve in shot glasses with a small lime slice in the glass.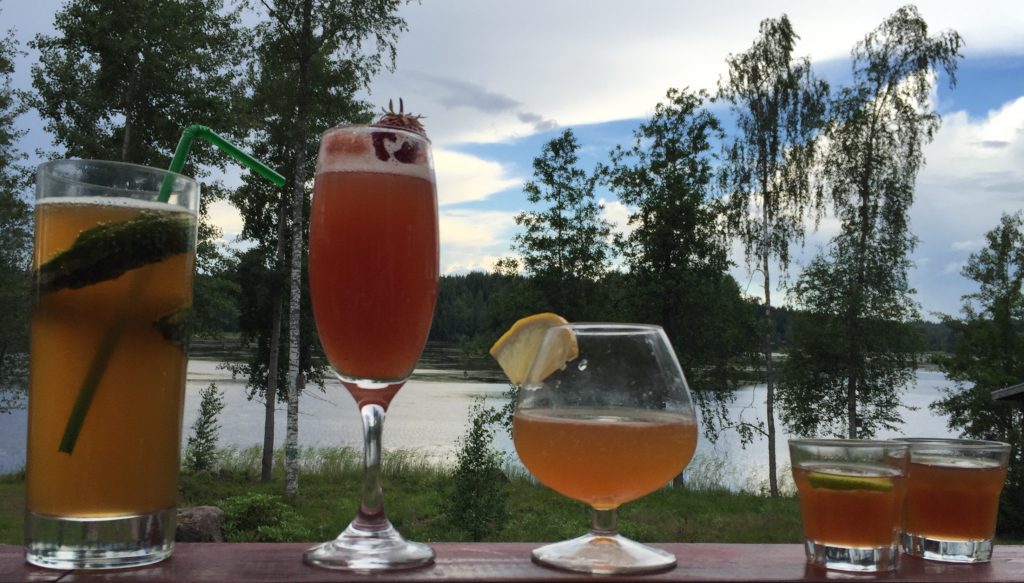 You can drink these all day long (with moderation of course) watching ringed seals sunning themselves on lake Saimaa rocks. Or wherever you may roam with an access to sahti. Go on with the recipes and give it a try yourself! À la vôtre!
---
---