Amazing weekend starter: French cider and food pairing on porch
Chef at your service
That's already quite amazing to have someone prepare a private full menu dinner. And then, on previous Friday all that was raised to a power when the dude in the picture took this task. He worked earlier as a chef in a French Michelin star place, nowadays working in own restaurant at Le Chicoulon. Talent comes in so many ways.
Have a look how the chef Tomi Bourthoumieu and his fiancée treated our party of six. Five of us are really not cider drinkers and one is even like anti-cider person. Therefore, only one in the party usually fancies ciders. The said case formed pretty interesting expectations for the drinks soon described. Food ingredients were bought from Prisma Lappeenranta.
Beers in La Chicoulon
Neglecting the threat of sliding to a sidetrack, one just needs to note that together with their wine cellar La Chicoulon has small brewery beers available. They occasionally even organize so called beer nights, when new local beers become available. They source their beers from nearby bottle store and tap room Chez Victor Marseille. This place has six frequently changing taps and around 450 bottled beers.
Chez Victor chooses beer selection for La Chicoulon. Almost all these beers come from Provence area. The current selection consists of Bières artisanales la Minotte, Bière de la Rade, Brasserie Zoumaï, Brasserie Artisanale du Luberon (BAL) and Aix' Press Brasserie. The story and tasting of a censored beer by Bière de la Rade (in Finnish). Some more breweries in this area have been listed in another post (in Finnish) including tasting BAL beers.
Peek to cidery side of France
In France, ciders are more of a northern thing and have respectable position there. Especially in Normandy and Brittany people tend drink less wine than cider, and in restaurants food pairing suggestions are often more accurate for ciders than for wines. Not sure if this has been much recognized among average Finns. Well hey, at least they know where Normandy lies because of our glorified school system and famous WWII events.
For this meal drinks had been bought from the very farm producing the ciders. The cidery is called Ferme de Billy in the town of Rots and it enjoys experience of several  generations starting from later middle ages, more precisely 1291. Early in that century Normandy had been conquered by the king of France, and after the next century shift in 1337 started the Hundred Year's War between France and England. Normandy was in the middle of conflicts and suffered a lot of damage. I wonder what kind was the world of apple uses those days.
Ferme de Billy has a locally sourced restaurant and a shop for farm products: ciders, apple juices, quite a few different calvados and other drinks like cocktails and pommeaus (apple juice with calvados).
Nowadays the farm grows 16 sorts of apples and has 24 000 apple trees. A bit of a harvesting task there. It can't be a tiny farm. To get some more insight, think of Finnish forests. On this path I am tempted repeat how eager the Finns are raking their forests, but because all that would be fake news, I just leave it there. And recall forest decimation leaves roughly 1 000 trees per hectare. Whether or not comparison is approproate this suggests the apple trees could cover something like 24 hectares in the farm, resulting the area pretty much equal to 500x500m.

Aperitif
Outside of the designed menu, I was honoured to serve blueberry lambic home brew (6,5%) as aperitif. This batch made with home forest berries yielded something we've been pretty happy with. The making took about one and a half years, which definately is a personal record with respect to lengthiness of a brew.
Practically all tasters have claimed the beer as something "not beer". The kindest responses have been obtained from those not usually drinking beer at all. I sure like the term, toy beer, which is how it was called by one taster. Anyhow, technically it is beer while resembling more of an overdose of bubbly funkish tart blueberry juice, or thin mouth-feely but individualistic blueberry soup.
Starters
Looking the menu one may get shocked, vegetarians especially. Has the chef stuffed famous maki – a Madagaskar monkey – with cabbage and immersed that in mayonnaise, maybe?
Leaving tasteless humour behind we get tasteful red cabbage and wasabi spiced mayonnaise, well, maki. Most of the readers likely connect maki bites to japanese cuisine. Only this time instead of rice we have cabbage rolled in seaweed, in a similar way you get maki sushi. Red cabbage put this way certainly makes positive impression in my mouth.
But there's much more on the plate than is simply written on the menu: sprout, seaweed tartar, and the chef's vinaigrette made from scratch. For vinaigrette alone you need whole bunch of ingredients.
All this hands in superb chances for multiple and new tasty tastes. The above gives so many possible and impossible taste combinations with cider served. In a good way it is too much to handle. Already without cider there's overwhelming parade of tastes.
To accompany starter dish, Billy's Cider Tonique (2,5%) was served. This drink is something totally different you've got used to as an occasional cider drinker of the Finnish volume market offerings. Holy cow!
Cows indeed are something people reach out in their first impressions. Myself, used to farmhouse ales, this is purely intriguing surprise. Nothing negative in the smell and taste of horse blanket. This is totally different from what I had tasted as cider thus far. The others formulate the smell and taste as "excellent cow or horse manure and little like wool".
Don't get us wrong. All this was liked and felt in a good way. For myself, I screened the taste in two halves. The first half exposed the said weirdish things sharply changing taste midway to a super-hyper apple-flavoured juiciness.
One of the smiley-faced descriptions said aloud: While drinking there comes three loads of shit in an intermittent frequency. The exact phrase in Finnish was "skeidan maku jytkähtää kolme kertaa." Oh well. I and the others sure understood where this feeling came from while the cyclic taste behavior is something not all of us were clearly agreeing. There started to be a bit of verbal fireworks going on as the other appreciative stetement went like "kirpeä, makea, klönttöinen, raikas omenahillo", meaning something like tart, sweet, lumpy, fresh apple jam. To be concise, unquestioned apple side of the drink manifests huge power of freshly squeezed apple juice.
Worth noting is they have put sugar in this cider, the opposite example soon follows. The company describes this drink as refreshing, acidulous, wearing light yellow dress on its body, and experiencing floral aromas. All that is something not to disagree.
You just would have to have time and patience to listen what your taste buds and neurons are delivering from food and drink. Instead of really grasping that, I am afraid in your brains happens something similar to working with computers: stack overflow, bluescreen, kernel panic whichever way you want to describe processing status of rushing in taste signals. This is the moment that would require deep food meditation. But one must go on as I was already left behind. Someone was kindly collecting others' already empty starter plates.
Main plate
The main dish builds on poultry with salted walnuts on top, French way peas and aspargus below, croutons and thyme emulsion around.
Actually, and again, there are far more ingredients than straightforward listed. From the chef's stories one can note basil, French style lettuce, poultry spicy sauce with secret ingredients including chili, Worchester sauce, garlic, ketchup and many others. The white foamy stuff in the image, said reindeer sperm, is someting referred to as this mystique thyme emulsion. The croutons are self-made and way, way better than those ordinary stone hard teeth busters.
The sauce was cooked for two hours letting tastes concentrate in remaining fluid. Preparing the whole menu took much longer. All this makes you humble in front of state of will, effort and skills needed. The result tastes fine and unique. Absolute greatness.
Cider selected for main plate is Billy's Cidre Sauvage (7%). It has no sugar added and is really dry. Apparently, fermentation has also gone to far end, for what it comes to yeast munching fermentable sugars. Cider colour is golden yellow and flavours are robust resulting a cider for connoisseurs. It ideally accompanies delicacy meats and cheeses. That was what the cidery says. We also know this cider is more mature and has different apples than the first one.
Now let's hear what the party panel said. This has darker yellow body than the first cider. It brings to mind chanterelles and mushroom smell, moist forest ground, and wood. There's something similar to the first one, but this is much less poopy. As expressed, the first had significantly higher poo sensation factor. Very much packed with apple sensations, however it can't compete to the first. In comparing sharpness of the aftertaste someone said the first cider had a clear cut on finish while the second had longer aftertaste.
Again, in trying to cope with meal multitude of tastes with and without cider, complexity takes over. Too much to observe for a single meal. That is a good thing, leaving eagerness for another try.
The labels of Billy ciders have no indication, but elsewehere one may find the terms cidre de Normandie, cidre de Bretagne and cidre de Maine which are protected in EU geographical indications register.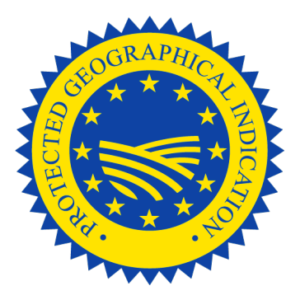 Dessert
Many things apple has been the name of the game tonight. For dessert we got Far Breton, a traditional apple cake from England. Far Breton seems like mixture of a pudding and a cake. It is made of apples, eggs and apple juice. The juice used comes from the Billy's farm just like the ciders. It is as full of flavors as the other dishes. However, for a non-dessert person such as myself, the other parts of the meal steal podium places.
Dessert wine is produced in Valamo Monastery in Eastern Finland. In their selection other wines represent sparkling wines, red and white wines. Would be interesting to taste Finnish wines from grapes, especially if the grapes are grown in here. Tonight's strikingly sweet drink has been produced using whitecurrant and cloudberries to the strength of 10,5%. It fits to the meal in a good way and would be sort of lost opportunity if drank without upfront meal.
Digestive
Ellon-based BrewDog's mahogany coloured Savage Hive Hugger was served as late nite finisher. It is a specialty batch barley wine (12%) with excessive amount of heather honey. Honey is something one definately tastes in there. (More stories about this beer in an another post in Finnish.)
At the age of about two months this beer now develops foam, and reveals really striking taste for bitterness. At earlier stage its 100 IBUs were effectively hiding underneath then softer overall tone. Maybe Savage Hive Hugger has started to develop. The other explanation for the notion has more to do with serving temperature. Namely, most of the bitter force severely fades away when later enjoyed closer to a room temperature. Actually, slightly higher temperatures have been the case in earlier tastings of this beer. This time it was really well cooled.
Not all tasters were friends of bitterness, but were very delicate in their wordings. In the end and of course, directness and way of expression depeds on a person. In this evening we got to hear both highly streamlined as well as very discrete styles in feedback giving.
Afterthoughts
Ciders were good! The secrets of cider have just started to unfold. And the food, far beyond words can express! The meal totally was smarter weekend starter. It is just that in this party they seemed to serve beer not tasting beer and cider not tasting cider.
Having someone cuisinewise smarter to select limited amount of dishes on a plate certainly helps to focus on essentials and gives better opportunity to taste varieties and appreciate a meal. Rather than going on and building mountain of food in a buffet of whatever restaurant. It is all too easy to focus on amount and speed rather than taste nuances and combinations.
Probably some of us have started to drift away from the redneck style shoveling loads of foods the other elbow firmly on the table. For myself at least, it has been a journey from practical eater to still robust finer dining appreciator.
One sure thing explaining hard-headedness has been price of fine dining meals, but that's not all at all. Eating really good also means spending a lot of time with that, and I guess I am still lacking needed gourmet patience for time use. Besides, in a company foody meditation isn't working that well.
Then, the hardest part is to overcome gourmet cuisine image as high class, snobbish and/or shallow wannabe matter which feelings are often attached to exclusive and expensive things. But as you see from the citations above, there are methods to reduce the risk. Aren't authentic feelings and observations the best.
And you know what? Ciders have awaken my curiosity. I never buy cider and now just a couple of days later this happens. Can't wait to find out the poo factor.
Places on map
Kartta lataantuu, odota...
---
---